Delicious Coffee Adventures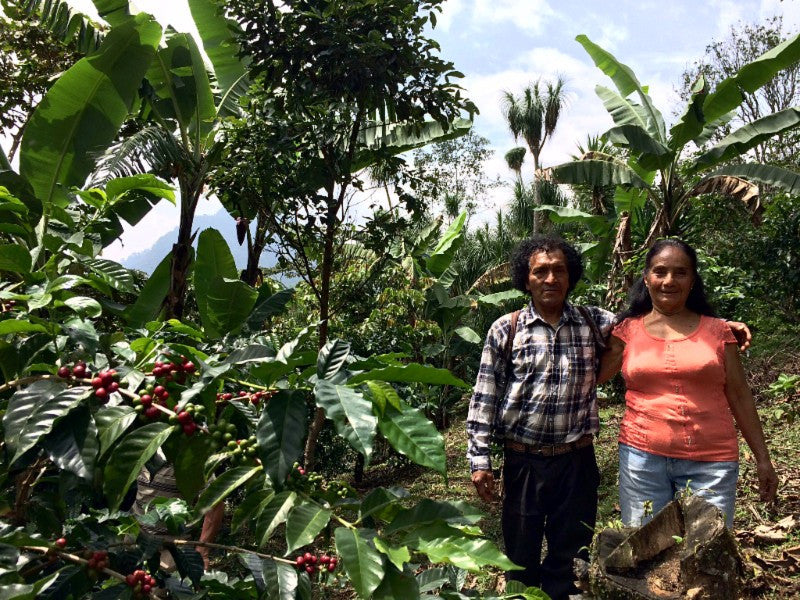 Traveling in the name of coffee is a delicious adventure. We recently returned from our trip through Guatemala and Mexico to visit some of our friends on Lake Atitlan and in Mexico City.  It was a whirlwind! We've got some exciting things in the cards for the 2015-2016 harvest and the years ahead.
The harvest has just begun in Guatemala, and most of our time down on Lake Atitlan was spent meeting with the farmers of AProCafé el Grano, learning about the work they're doing and the challenges they face. This included reuniting with some familiar faces like cooperative leaders Isaías Ixcamparic and Pedro Izaías Gonzalez, as well as meeting some new friends like Doña Lucinda and Don Manuel themselves, Dolores Bruna, Pedro Trejo Mendez, Angel Hernandez, and Santiago Navichoc.  
Visiting these farmers' coffee fields, seeing the extra effort they're putting into shade pruning and organic composting and the visual differences in their coffee trees' health in comparison to other farms on the lakes, and getting a sense of the work that goes into some of the growers' on-farm processing operations was truly inspiring. Though Huckleberry can't buy all of the coffee AProCafé produces, the goal for the coming year is to help AProCafé separate out micro-lots and receive better prices for a few more individual farmers this year. We're hoping to roast three of these great coffees for you in 2016.
Beyond the farms themselves, there's a lot of work that goes into making great coffee, so it was particularly inspiring to meet Oscar Julajuj, who's taking over the co-op's washing and drying operations with 18 years of experience at larger fincas under his belt, and Danilo, AProCafé's 25 year old agronomist who also grows coffee for the cooperative. Leaf rust is a coffee disease that has hit Guatemala quite hard over the past two years, and Danilo's been experimenting with some organic rust-prevention solutions, with the goal of implementing them co-op wide after the current harvest. Lots of names, lots of details left out, but all said and done, we have a lot of reason to be happy about where AProCafe's heading in both the immediate and longterm future.
With that in mind, and with good signs for next year, we're down to the last few weeks' supply of both Atitlán el Grano and Don Manuel, so now's the time to snag a last little bit of those two coffees this fall.  Don Manuel is an incredible resource of coffee knowledge, and after meeting the person behind the coffee, we're even more excited to recommend his coffee.
---
---
Leave a comment
Comments will be approved before showing up.