Wake up with Huckleberry and Extra Vitamins!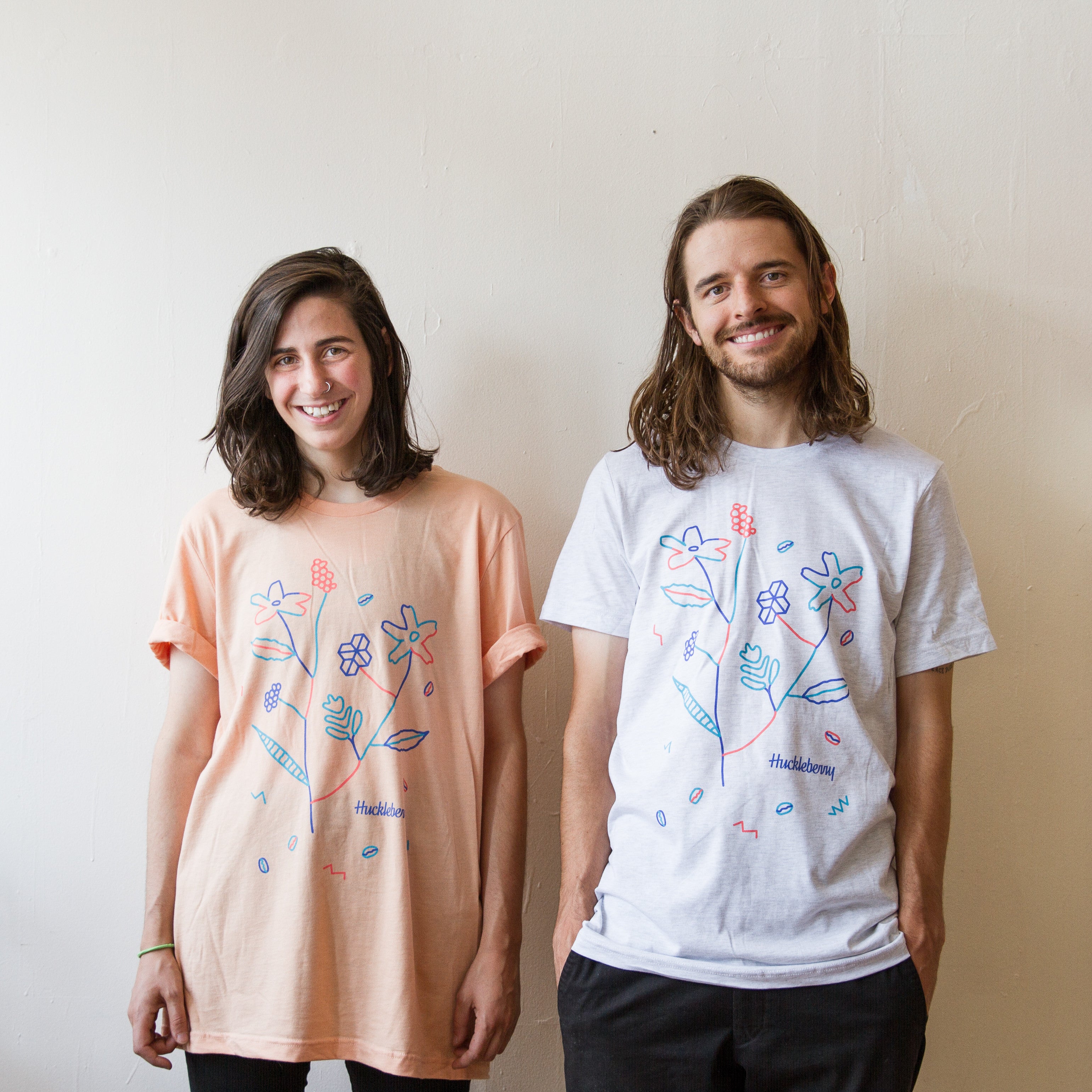 We're bringing fresh Huckleberry styles to our retail lineup this summer through our collaboration with the local art and design studio, Extra Vitamins. Starting this week, you can pick up new shirts, flat-brimmed ball caps, and more funky Huckleberry fashions designed by Extra Vitamins at the Pecos location or online.
Julia Belamarich and Kyle Warfield, also known as Extra Vitamins, create wearable art and art-objects that combine whimsy, movement and activism into playful graphic designs. The Denver based duo draws inspiration for their work from childhood and the early days of the internet. Whether they're making zines, prints, large-scale installations, hats, or stickers, the Extra Vitamins studio brings their signature squiggles and bright colors to every art medium. In the last year, Extra Vitamins has crafted merch for the local band Tennis, painted a mural for Colorado Crush, and exhibited pieces at the Dateline and Leisure Galleries.
What's your favorite color? Why? Our favorite color is the one that works best for the feeling we're trying to communicate. But lately we've been really into variations of pink. Lilac. Mauve. 
What does your morning routine look like? Any fav beverage of choice to wake you up? Julia wakes up, then Kyle wakes up later. Julia drinks coffee—her summer favorite is cold brew. Kyle drinks orange juice or water. And lately we've been making smoothies for breakfast. 

What's your favorite shape? Why? As with colors, we can't pick a favorite. But the shapes we tend to use a lot are crazy starbursts, rainbows and blobs. 

Huckleberry is honored to work with this incredible pair of creatives. This project is our most recent effort to team up with local artists to share something totally unique with the Huckleberry community. We're proud to be a part of Denver's thriving art scene and have championed local artists, musicians, and makers since we started serving coffee. Over the years we've used our cafe space as a pop-up for artisanal makers and a meet-up for knitters, gardeners, and cooks. We've hosted school supplies drives for nearby neighborhood schools at our cafe and used the space as a concert venue for DIY shows, an art gallery for barista artists, and so much more. The murals that adorn the exterior and interior walls of the cafe have all been created in collaboration with local artists and we recently released a blend of coffee that directly contributes to a cause selected by the local artist we partnered with to make the art for the coffee bag.
Our community is full of artists and we're proud to bring you another deliciously Huckleberry blend of spunky and silly wearable art from Extra Vitamins. Grab your gear here and check back for more collaborations in the fall.
---
Follow @extravitamins on Instagram, and check our their website extra-vitamins.com for more info.
---
---
Leave a comment
Comments will be approved before showing up.