Green Coffee, Roasting, and Quality Control in the Time of Covid-19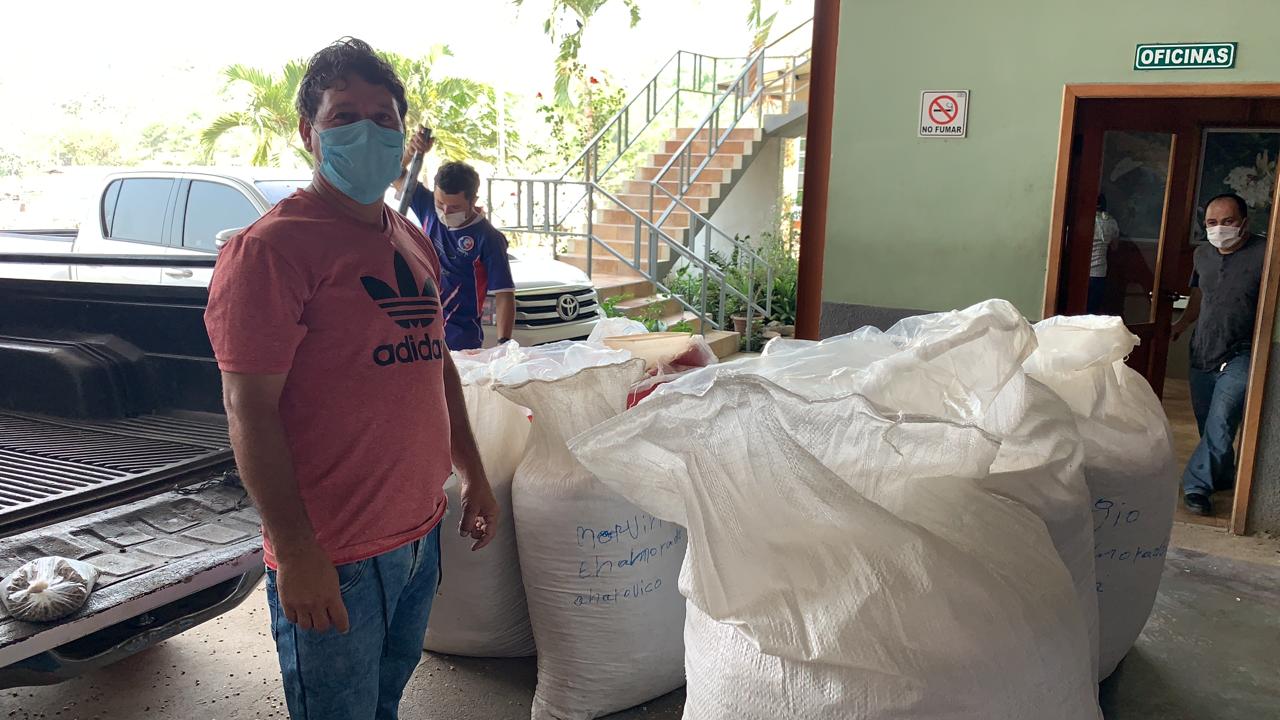 Hey y'all, been a looooong while since we've written a blog post, but figured a longer format would be good to chat about coffee buying, roasting, and quality control in the context of this weird pandemic. At the time of writing, we've kinda hidden our blog from the Huck homepage, and this is mostly intended for our wholesale partners, but if that's not you, you happened to stumble across this, and you're interested, great!
Anyways, coronavirus is obviously impacting all of our daily lives, at home and at work, and it's prompted some pretty major changes here at Huck. We've closed, then re-opened our cafes in a very limited capacity, and the vast majority of our wholesale partners have had to make similar choices. As a result, we're roasting less coffee than we were at the end of February, and using the green coffee we've contracted a bit slower than we anticipated a few months ago. But, thanks to strong support from the Huck community online and at our Pecos St. cafe and some hard work from Jason and Koan to build our grocery business, we're doing pretty well, all things considered. We've kept our roastery open, staffed back up with the help of a PPP loan, and are cranking out a bit more coffee each and every week.
Masks and gloves at the roaster...
...with 15-30 seconds of mask-free time per roast batch.
Beyond the big business overview, corona has definitely changed how we work at our warehouse. We're following strict social distancing protocols - wearing masks, washing our hands even more obsessively than we used to, and squeezing into fresh nitrile gloves every time we pass into the roasting space or our cupping nook. Cupping though, has always been a major part of ensuring that our coffee is as good as we want it to be, and we cup a lot. We don't taste every roast, but we're pretty darn close, tasting at least one (usually several) roast(s) of each coffee in our lineup, for each roast day. And with corona, that has become a royal pain in the butt.
We have three folks doing quality control at Huck (Shelby, Mark, and myself - Kevin), and before corona, we'd cup together. Set up all our roasts for cupping, grind and brew, then use our spoons to slurp out of the same cups. Cupping is a weird practice, but it's the most consistent and time-efficient way to taste and evaluate, say, 20 roasts at the same time. Not exactly social distance-appropriate.
Now, we're still setting up those 20 roasts, but we're doing it three times. Each of us cups individually, rotating up to the cupping nook and back down to the roaster, then we compare notes afterwards. What used to be 45 minutes to 1 hour of collective work is now 3 hours of work and a lot more dishwashing. It's a pain, but we're committed to keeping our coffee delicious, so we're taking a major hit in the efficiency department for quality's sake.
One roaster at a time.
Safety-first slurping.
We also cup coffees for purchase. Lately, due to those time constraints, and because the size of sample roasts limits the amount of cups we can weigh out, I've been doing most of that cupping solo. It's definitely an intention to bring Shelby and Mark back into the fold as much as possible, but right now, those additional purchase cuppings are on an as-time-allows basis, and a lot of the time, I need to make and communicate those buying decisions immediately after tasting. Not to mention that 3 sets of 20 cups for quality control, plus multiple sets of 3 cups per sample roast on the same day...it just adds up to a lot of dishes and a lot of water use.
Beyond the day-to-day here at the roastery, we've been doing our best to keep in touch with our producing partners via WhatsApp, email, Facebook messenger, Skype, text, and sometimes Instagram. I'm certainly no authority on coffee outside of Huck's scope nor on coronavirus, so I'm not gonna try to write a comprehensive report of how Covid affects coffee producers as a whole. But here's a snapshot of what we're hearing from our friends and partners at origin, and in some cases, how coronavirus affects Huck's coffee buying.
Guatemala
After visiting our friends at AProCafé and Monte de Oro in January, we were primed to taste samples early, then get our coffees to mill and port earlier than we ever had. This process is largely out of our control in most cases, but with AProCafé, we're significantly more involved with each step. We had plans to taste samples mid-March and AProCafé was going to deliver coffee to Servex for dry milling the first week of April. We were going to beat the yearly traffic jam of coffee producers delivering their coffee to the dry mill at the same time, and the resulting slowdown at the mill. But then corona happened.
Right as Pedro Isaias from AProCafé was about to bring samples to their finance partner to send our way, Guatemala went into full lockdown. No public transportation, no travel between departments, full stop. AProCafé eventually figured out how to get samples out, but we were already two weeks behind schedule at that point, then needed a second set of samples...the process wasn't as quick as we had hoped. Even once we had agreed to all of our microlots for the harvest, a roadblock on the way to the dry mill set AProCafé back another half week, and then we were back in the usual traffic jam of coffees entering the dry mill at the same time. But, the coffee is set to leave Guatemala within a few weeks, and we're crossing our fingers there aren't any more holdups. We're behind our high expectations schedule, but still ahead of schedule from years past.
Barricades on the way to SERVEX Dry Mill
Coronavirus fumigation in the streets of San Pedro la Laguna (seems questionable and potentially toxic, but I'm no expert)
Flowering coffee in San Juan la Laguna. Special AProCafé varieties coming 2021!
More importantly, the coffees are delicious, and it seems that Guatemalas lockdown measures have been relatively effective in limiting cases. Pedro Isaias and Isaias Ixcamparic from Aprocafé say all the farmers are safe and healthy, and Mario Alarcón says that his family and the crew from Finca Monte de Oro and Truth Trading Company are all safe, too. Now we're just waiting for the coffee and checking in with each other every few days.
Panama
Carlos Aguilera and Carmen Estate produce some of our favorite coffees, and they're experiencing some similar delays to Guatemala. We're a bit less involved in the export process there, but Carlos says the country is on full lockdown, and he expects coffee will be moving out of the country a bit slower than usual. There are far fewer container ships passing through Panama Canal, and far fewer containers bringing goods into the country. As a result, a shortage of containers to fill for export could produce some delays in getting coffee out. Between now and then, Carmen Estate manager Jean-Paul has samples ready to go, but needs to figure out how he can get them from the farm to DHL. All in good time, and as long as folks stay safe, no worries.
Samples: ready to go, but snags in shipping
Honduras
Sergio Enamorado's second flush - a mini, later-than-usual harvest - has been a staple of Commonwealth's coffee lineup for the past few years, and since we've joined forces, is now part of the Huckleberry fold. We had started some very loose conversations with Sergio about buying more of his main harvest, too, but since we slowed down in roasting, we've agreed to commit to the second flush in full for 2020, and are going to evaluate any additional coffee as we get some more clarity on our roast volume over the next few weeks.
Sergio Enamorado delivering parchment to Beneficio San Vicente
The Santa Barbara area of Honduras has a much later harvest than most of Central America, so farmers there are still harvesting in the middle of this pandemic. Luckily for us, Sergio has a relatively small farm. He and his son pick most of the coffee themselves, with just a bit of outside labor on the heaviest picking days. Social distancing restrictions may have a bigger effect on larger estates using more outside labor, but all systems are go for Sergio. Benjamin Paz at Beneficio San Vicente (the dry mill and exporter) says that his mill is operating, but with some social distancing measures, so we're hoping for minimal slowdowns on the export side. 
Kenya
The Kenyan coffee harvest ends in February, so we had already approved our Kenyan coffees before corona. Curfews and travel restrictions have had some affect on moving coffee within Kenya, to Kenyan Cooperative Coffee Exporters and then to Mombasa for export, but I don't think we can honestly attribute most of our delays to corona.
That being said, it was a tough year for Kenya, and corona is making it tougher still. Erratic rains created a later harvest than usual and blight - coffee withering on the tree from my admittedly limited understanding. And rains during the dry season created huge challenges for farmers drying coffee. As a result of this, we're buying, but blending coffee from some of our favorite farmers in Nyeri, and will have some new names in the single origin lineup. On top of that, the country has shut down completely since the end of harvest. Rachel Gichuki is a part-time farmer, full-time schoolteacher, and says that all the schools in Othaya closed immediately upon the first case of corona in Kenya. She's focusing on farming (and we're stoked that the Gichukis are working with our friend Peter Mbature to improve farming practices for next harvest), but the family has lost a major source of income. And it's tough to think of how this pandemic will affect children in the developing world, where teaching over the internet isn't an option. 
Flowering SL Varieties at the Gichuki household.
Ethiopia
Like Kenya, Ethiopia had wrapped up its harvest before the peak of this pandemic, but Ethiopia also had a challenging year. The coffees are delicious, and we're about to release our first floral and fruity offerings from Worka Chelbesa, but the harvest was late and small this year, and some wild macroeconomic conditions made it tough for washing stations to pay farmers for coffee for a few weeks.
This year, our biggest challenge has been some shakeup at the Yirgacheffe Coffee Farmers Cooperative Union. Last year YCFCU lost some business due to issues with its organic certification, which put it on slightly shaky ground for this year. On top of that, there have been some major changes in leadership, and communication with the group has been challenging. Still, we're wrapping up the final details on some banger coffees from Aramo Cooperative and individual YCFCU farmers, and are hopeful for an easier 2021!
Colombia
We've been doing our best to keep in touch with our partners throughout Colombia. Elizabeth Marroquin Ortiz and her husband Samuel are part of the administrative team at ASOQUEBRADON, the association behind Las Brisas. Tolima went on full lockdown right before the start of harvest, and Elizabeth was initially pretty concerned about farmers not being able to pick or deliver coffee to purchasing stations.
The government has loosened restrictions slightly since then. Farmers are able to pick their own coffee, and Caravela's purchase station in Rioblanco is open and accepting coffee for our next shipment of Las Brisas. But Caravela's agronomic team has suspended farm visits, communicating with farmers by text rather than in-person, and there will likely be some labor shortages at mid-sized and larger farms once peak harvest hits.
The Ortiz family takes a paws from working on their coffee nursery in Rioblanco
La Real Expedición Botánica is a collective of farmers, including Segundo Grijalba. Our main point of contact is Herbert Peñaloza Correa, who roasts coffee in Bogota, but owns a farm in Tolima. He's been locked down in Bogotá, but is planning to make the trip to Tolima this weekend, if he can make it through the road blockades. Fingers crossed for Herbert!
Roadblocks in Tarqui, Colombia
Burundi
Our pals at Long Miles are a few weeks into the 2020 harvest, and despite coronavirus, are cautiously optimistic for this year after a difficult 2019. Between erratic weather and other factors, 2019's harvest was just 20% of normal, and 2020 is looking like a return to expected volumes. Farmers stand to earn more, from more coffee, and we'll be able to be a bit more selective in choosing our 2020 lots. The Long Miles team has always cleared the always-onerous bureaucratic hurdles to getting their business license for the year, has implemented social distancing measures at their washing stations, and reports that the full team and all farmers are currently healthy.
Peru
Huckleberry works with Origin Coffee Lab to source La Mandarina and coffee from the community of Laurel, currently the backbone of Blue Orchid and Sound and Vision. Jose Rivera, the CEO of Origin and a personal friend, came down with coronavirus while visiting family in the US, and is fully recovered, but still in Chicago until the Peruvian government lifts travel restrictions. Jose has been doing some impressive work from Chicago though, and his coronavirus report prompted me to start writing this.
Crunching the Numbers with Origin in Peru
Peru, like Burundi, is also just starting harvest, but unlike Burundi, the government has been much more proactive about implementing restrictions. So far, farmers are only able to harvest their own coffee, not bring in outside pickers. Huck's coffee comes from higher elevations, and Origin is optimistic that some of the restrictions will be lifted by the time these areas hit peak harvest in June, but corona has definitely made it hard for lower altitude farms to harvest coffee. As of Monday, 5/18, the Peruvian government has granted the coffee sector "essential status," which should reduce some of the strain on coffee armers looking to hire outside labor for harvest. Even as restrictions are lifted, Jose is predicting significantly higher costs to farmers this season across Peru, and likely some hurdles moving coffee around the country once it's harvested, rested, and ready for milling. We have actually already set pricing for La Mandarina, before harvest, but may work with Origin to add a premium to help cover some of those pandemic costs.
✌️😷☕✌️😷☕✌️😷☕✌️
Well, that's a lot. If you've made it this far, thanks for reading! Despite corona's challenges, we're working hard, trying to stay healthy, washing way too many cupping bowls per day, checking in with our producer partners, and looking forward to roasting you some awesome coffee over the next few months!
---
---
Leave a comment
Comments will be approved before showing up.